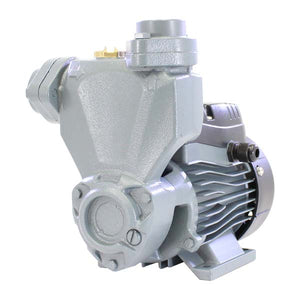 PEARL SELF-PRIMING PERIPHERAL ELECTRIC WATER PUMP PSP - 0.5HP, 110V.
The PSP can be used to pump clean water or other liquids similar to water in physical and chemical properties without abrasive particles. It is recommended for water supply in residential units, agricultural and commercial irrigation systems, air conditioning systems, and hydropneumatic systems.
PUMP FEATURES:
Pump body made of cast iron
Motor support with anti-blocking system, preventing the pump from getting blocked after long periods of non-operation
Impeller made of RADIAL BLADE BRONZE
Stainless steel AISI 304 shaft
Maximum liquid temperature: 60 °C
Suction capacity at sea level: 8 m
Mechanical seal made of ceramic and graphite, with NBR elastomer
MOTOR FEATURES:
Enclosed induction motor with copper winding
Class F insulation
IPX4 protection
Maximum ambient temperature: 40 °C
Single-phase 110 V - 110/220 V - 220 V as required
60 Hz, 3450 rpm
Built-in thermal protection for single-phase motors up to 2 hp
Three-phase 60 Hz, 3450 rpm
220/440 V
Available in 50 Hz versions
Voltage selector for single-phase pumps up to 1 hp.