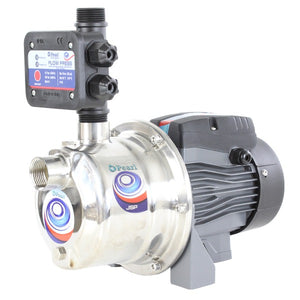 PEARL STAINLESS STEEL JET ELECTRIC WATER PUMP JSP - 1HP, 110/220V. With Pressure Controller Mini Press/Flow Press
JSP - Pumps
They can be used to pump clean water or other liquids similar to water in physical and chemical properties. Recommended for water supply in homes, buildings, and industry, in hydro-pneumatic systems, shallow well suction, agricultural and commercial irrigation systems, water treatment, water packaging, etc.
PUMP CHARACTERISTICS
Pump body in AISI 304 stainless steel Pump support in aluminum Closed centrifugal impeller in AISI 304 stainless steel AISI 304 stainless steel shaft Maximum liquid temperature: 40°C Sea level suction capacity: 9 m Mechanical seal in ceramic and graphite, with elastomer in NBR
MOTOR CHARACTERISTICS
Closed induction motor with copper winding. Class F insulation IPX4 protection Maximum ambient temperature: 40°C Single-phase 110 V - 110/220 V - 220 V. According to requirements, 60 Hz, 3450 rpm Built-in thermal protection for single-phase motors up to 2 hp. Three-phase 220/440 V, 60 Hz, 3450 rpm Available in 50 Hz versions Voltage selector for single-phase pumps up to 1.5 hp.